NEWS
YMAA Boston Performs Downtown for Charity
28 Aug 2008 (by Dan Hood) - More than 25 martial artists from Yang's Martial Arts Association (YMAA) of Boston gathered in downtown at Copley Square on August 23, 2008 for a special charity fundraising event.
They were there on a bright, sunny day and everybody performed at their utmost best, both children and adults included, to support the St. Jude Children's Research Hospital. The 90-minute YMAA demonstration was witnessed by passersby, friends, and family -- approximately 500 onlookers who were treated to a variety of electrifying Kung Fu and Tai Chi performances. Guest performers included Daoist monk Zhou, Xuan Yun (Mysterious Cloud) from the Wudang Mountains in China and Rich Manley, bullwhip specialist and rising actor from Stow, MA. Nicholas Yang, director of YMAA Boston and President of YMAA International, said the event raised over $1,100 dollars for St. Jude Children's Research Hospital.
Devil Music Ensemble Musical Performance
Devil Music Ensemble will be doing a live musical performance to the silent film "Red Heroine", which is the only surviving full-length Kung Fu feature from 1929 during Shanghai China's silent golden era. There will be a short martial arts demo from YMAA before the viewing!
Date: Saturday, September 6th, 2008
Time: 8:00pm
Location: Arts Union 2008 in Union Square of Somerville (outdoors)
NOTE: We are sorry to inform you that due to rain and the rescheduling of the event to Sunday, YMAA will not be able to perform as originally scheduled.
International Chinese Traditional Martial Arts Competition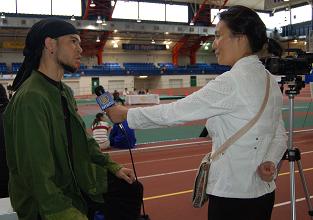 -North America Preliminary: September 27, 2008, New York City, USA
-Semi-Finals and Finals: September 28, 2008, New York City, USA.
-New York Event Site: The Armory Center, 216 Fort Washington Avenue, Manhattan, USA.
Website: Click Here